AWARDED "BEST CUSTOM T-SHIRT SHOP" 2 YEARS AND COUNTING!
At The Print Plug, we use cutting edge direct-to-garment technology for custom printing on t-shirts and more custom clothing services; to provide you with professionally customized garments with an unbelievably fast turnaround. Have a last minute event that you need merchandise for? No problem! Looking to buy a custom t-shirt as a present for someone's birthday, by tomorrow? We've got you covered! There are a ton of reasons that it makes sense to use our DTG technology for your next custom clothing investment, including:
No minimum orders
Full-color gradient prints at no extra charge
24-hour turnaround on most orders
No set-up fees
More affordable than traditional screen printing
FAST & PROFESSIONAL NO MINIMUM CUSTOM T-SHIRT PRINTING SERVICES
Direct-to-Garment (DTG) Printing uses a high-tech inkjet printer to print digital designs and images directly onto a t-shirt or other garment, which is what makes it possible for companies to feasibly offer no minimum custom t-shirts. The result is a full-color, high-resolution design that lasts longer than other printing mediums. DTG printing is quickly becoming one of the most popular methods of branding t-shirts and apparel, for several reasons:
The process is relatively hassle-free compared to other methods of printing.

With DTG printing, you are not limited by colors. For no extra cost, you can incorporate as many different colors into your printed design as your heart desires.

DTG offers much quicker turnaround times than traditional methods.

There is no minimum order for Direct-to-Garment printing. This makes it the number one option for one-off prints and small run custom clothing orders.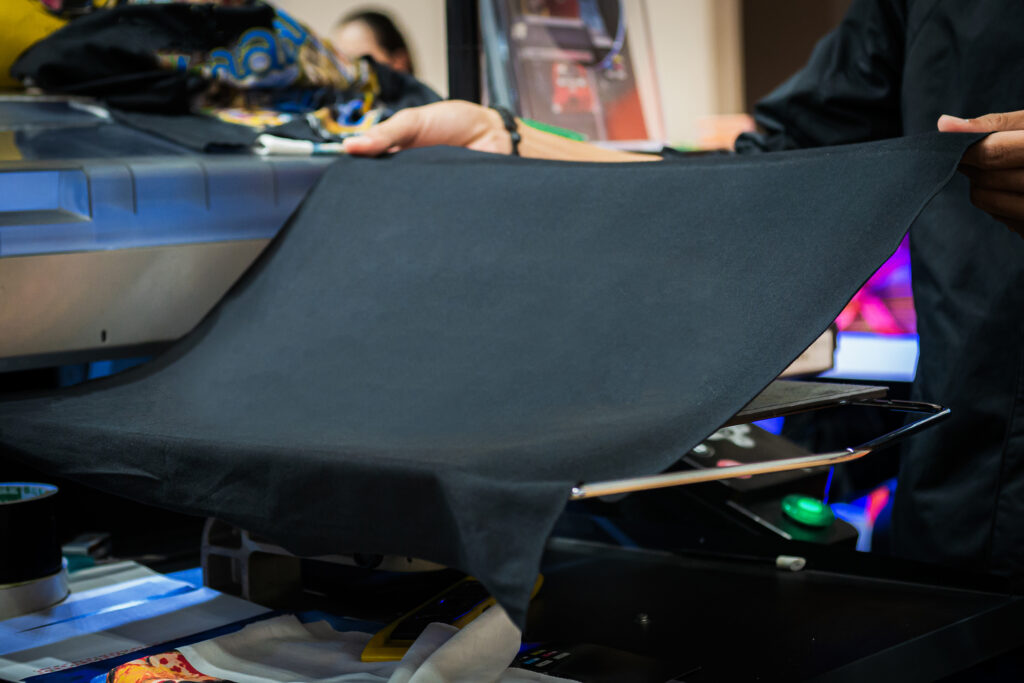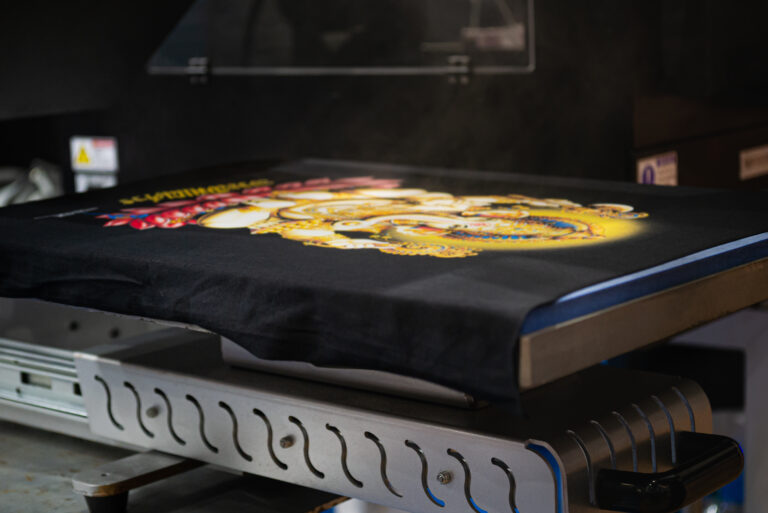 At The Print Plug, we are able to utilize our top-of-the-line DTG printer to apply professional graphics and designs to a multitude of mediums, including:
Shirts

Pants

Hoodies / Sweaters

Canvas Bags

Mouse Pads

Koozies

Coasters

Socks

More
Call The Print Plug today to find out how we can help breathe life into your custom clothing and apparel project with no minimum custom t-shirt printing and 24 hour turnaround!
With a friendly and knowledgeable staff, you can rest easy knowing your DTG print job is in good hands. From the design process to the finished product, your satisfaction is guaranteed.
Vector graphics work best, but we can work around the quality of your design and alter it to fit the order (fees may apply). The reason vector graphics are most commonly used is because they can be infinitely resized without losing any resolution or color quality, which is ideal for projects that need high quality images. DTG printing is a digital process; all we need is a high resolution art file that we can send to the printer and we will be able to print the shirt. Common file types for vector graphics include .ai (illustrator), .eps (encapsulated postscript), and .svg (scalable vector graphics). A high resolution PNG (portable network graphics) with a transparent background is preferred, and we can work with the art you give us (fees apply for reworking).
.Ai (Adobe Illustrator)
.eps (Encapsulated Postscript)
.svg (Scalable Vector Graphic)
.png (High Resolution Portable Network Graphic)
*Conditions apply. Turnaround time can be effected by product availability, shipping times and other factors outside our control. Approval of mock-ups acknowledges customer satisfaction. Unless finished products legibly deviate from the approved mock-ups, job will be considered to be completed to customer's satisfaction. The Print Plug is not responsible for inconsistencies or defects in garments.
We proudly offer Custom Clothing, Custom T-Shirt Printing, Direct-To-Garment, Embroidery, Vinyl, Sublimation, Screen Printing and more to greater Southwest Idaho and Eastern Oregon, including the following counties and cities:
Counties: Valley County - Adams County - Washington County - Payette County - Gem County - Canyon County - Boise County - Ada County - Elmore County - Camas County - Gooding County - Twin Falls County - Owyee County - Malheur County
Cities: McCall, Idaho - Council, Idaho - Indian Valley, Idaho - Midvale, Idaho - Cascade, Idaho - Smiths Ferry, Idaho - Ola, Idaho - Crouch, Idaho - Lowman, Idaho - Placerville, Idaho - Idaho City, Idaho - Stanley, Idaho - Atlanta, Idaho - Pine, Idaho - Mountain Home, Idaho - Glenns Ferry, Idaho - Grand View, Idaho - Oreana, Idaho - Murphy, Idaho - Boise, Idaho - Eagle, Idaho - Meridian, Idaho - Garden City, Idaho - Nampa, Idaho - Caldwell, Idaho - Emmett, Idaho - Payette, Idaho - Weiser, Idaho - Grasmere, Idaho - Riddle, Idaho - Castleford, Idaho - Buhl, Idaho - Hollister, Idaho - Twin Falls, Idaho - Ragerson, Idaho - Jerome, Idaho - Hagerman, Idaho - Gooding, Idaho - Fairfield, Idaho - Ontario, Oregon
NOT LOCAL? NO PROBLEM! TALK TO US ABOUT FAST AND FREE SHIPPING ON ORDERS OVER $200