COMPANY UNIFORMS WITH LOGO, CUSTOM HATS & OUTFITS
PUT YOUR COMPANY LOGO ON SHIRTS, HATS, JACKETS & MORE
Looking for customized company shirts, company hats, company uniforms with logo, company outfits, or custom embroidered polos? Look no further then The Print Plug in Nampa!
The Print Plug in Nampa offers a comprehensive solution for businesses looking to enhance their brand's presence and professionalism. They provide a range of custom apparel options, including custom company hats, custom company uniforms, and custom polo shirts. These versatile and highly customizable offerings allow companies to elevate their branding efforts, making a lasting impression on both employees and clients.
The Print Plug's expertise in the custom apparel industry, combined with our commitment to quality, ensures that your brand is showcased with precision and style. Whether you need personalized business hats, a unified team look with customized company uniforms, or professional polo shirts with logo embroidery, The Print Plug's quick turnaround, exceptional customer service, and competitive pricing makes us the ideal partner for businesses seeking top-notch branding solutions. Transform your brand's image and take it to the next level with The Print Plug's custom apparel offerings.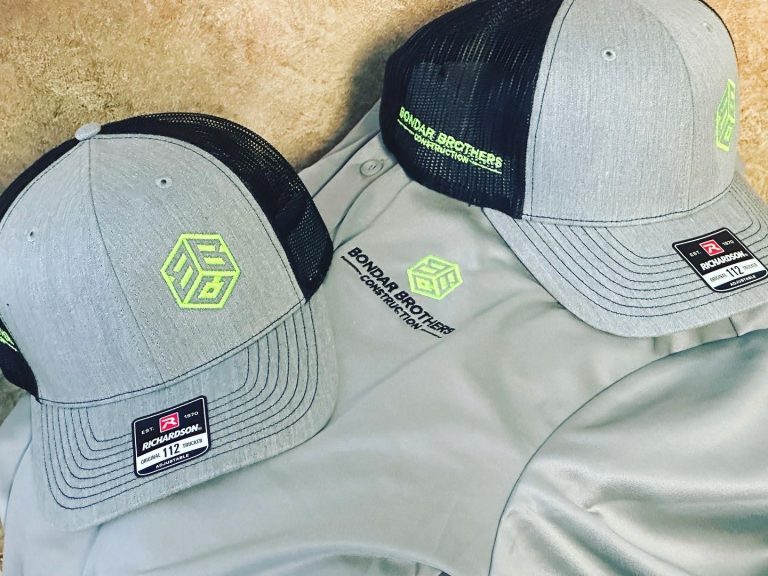 ELEVATE YOUR BRAND WITH CUSTOM COMPANY UNIFORMS & HATS
At The Print Plug in Nampa, we're your one-stop destination for premium company uniforms, hats, and custom polos that represent your brand with style and professionalism. We offer an extensive range of options, including custom company logo shirts, company logo embroidery, and personalized business shirts. Our expert team is dedicated to providing you with the best work uniform solutions in Idaho.
CUSTOM COMPANY HATS & MORE AT THE PRINT PLUG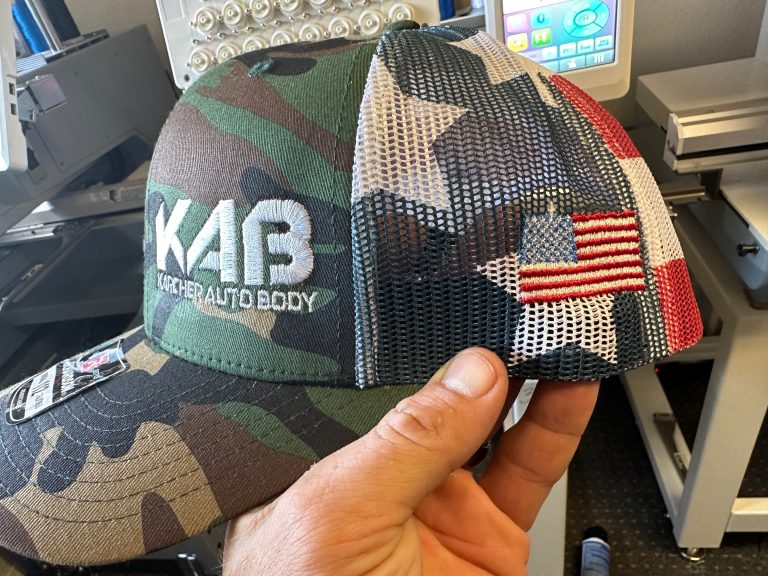 UNLEASH YOUR BRAND'S POTENTIAL WITH CUSTOM COMPANY HATS
When it comes to making a lasting impression, it's all about the details. That's where our custom company hats come into play. At The Print Plug, we offer a wide variety of styles and colors for your customized company hats, designed to carry your logo with pride. Let your employees, clients, and partners showcase your brand wherever they go with personalized business hats.
CUSTOM COMPANY HATS: THE PERFECT BRANDING ACCESSORY
Our custom hats with company logo designs are the perfect way to extend your branding reach. Here are a few reasons why custom hats are essential for your company:
Brand Recognition: Custom hats are a mobile billboard for your brand. Whether worn by employees, customers, or fans, they make your logo more visible.
Professionalism: Custom hats give your team a polished, unified appearance that customers and clients will appreciate.
Gifts and Promotions: Custom hats also make excellent promotional items or gifts for employees, clients, and partners.
Variety: We offer various hat styles, including baseball caps, beanies, and more, ensuring you find the perfect fit for your brand.
CUSTOM COMPANY HATS: BEYOND THE BASICS
The Print Plug goes beyond simple logo printing on a hat. We offer a range of customization options:
Embroidery: For a classic, high-end look, choose our embroidery service to make your logo stand out with a professional finish.
Variety of Colors: Pick the hat and thread colors that best match your brand identity.
Multiple Styles: Whether you prefer snapbacks, dad hats, or beanies, we have a style that suits your brand.
SHOWCASE YOUR BRAND WITH COMPANY UNIFORMS
COMPANY UNIFORMS: UNIFY YOUR TEAM
When it's time to take your branding to the next level, nothing does it better than custom company uniforms. Whether you're searching for company shirts, custom polo shirts with logo embroidery, or branded workwear, The Print Plug has you covered.
Give us a call at (986)777-9466 to discuss how we can breathe life into your company's brand.
CUSTOM COMPANY UNIFORMS: A MARK OF PROFESSIONALISM
Level up your company's brand by providing your team with company uniforms. Here's why it's a wise investment:
Uniformity: Uniforms create a sense of unity among your employees, enhancing team spirit and professionalism.
Recognition: Customers and clients easily identify your staff, reinforcing your brand identity.
Marketing: Your employees become walking advertisements, taking your brand wherever they go.
Workwear Solutions: Our selection goes beyond traditional company shirts. We also offer industrial workwear to suit various professions.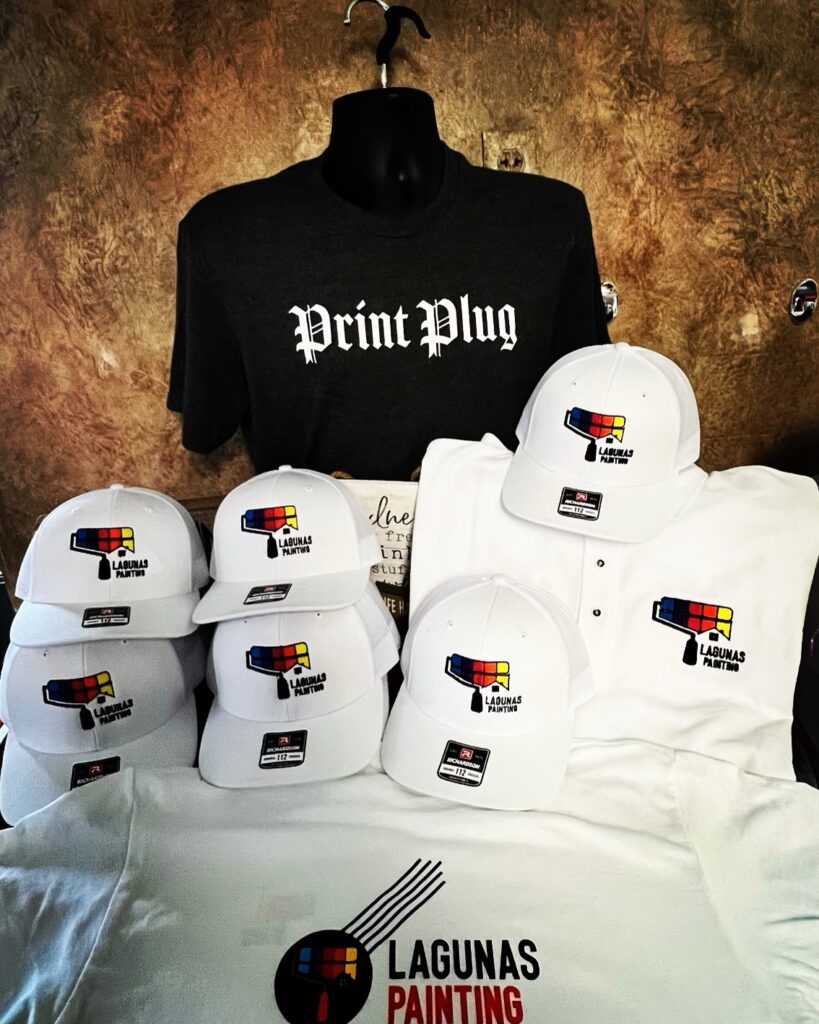 COMPANY LOGO SHIRTS: TAILORED TO YOUR BRAND
At The Print Plug, we understand the importance of customized company logo shirts. That's why we provide a range of options for your unique branding needs:
Custom Embroidery: Achieve a sophisticated, long-lasting look with embroidered company logo shirts.
Screen Printing: Ideal for bold, vibrant designs, screen printing is perfect for high-visibility branding.
Diverse Styles: Our collection includes traditional button-down shirts, casual tees, and work shirts suitable for a range of industries.
CUSTOM POLO SHIRTS: PROFESSIONAL & VERSATILE
POLO SHIRTS WITH COMPANY LOGO EMBROIDERY: THE CLASSIC CHOICE
When it comes to professional attire, few items are as versatile as custom polo shirts. Whether you need them for daily workwear or promotional events, our custom polo shirts are an ideal choice. The Print Plug has customized hundreds of polo shirt outfits for companies, brands, casual wear and golf enthusiasts!
CUSTOM POLO SHIRTS: WHY THEY'RE A MUST HAVE
Classic and Timeless: Custom polo shirts offer a timeless look that suits a variety of industries and professions.
Comfortable and Breathable: Our polo shirts are designed for all-day comfort, ensuring your team looks and feels great.
Branding Opportunities: With our logo embroidery or screen printing services, your logo will be displayed proudly on every shirt.
No Minimums: Whether you need 1 or 1,000 - our custom embroidered polo shirts are the answer!
Variety of Colors: Choose from a wide range of colors to match your brand's identity.
POLO T SHIRTS CUSTOM LOGO: SET YOURSELF APART
Custom polo shirts with logo embroidery are the perfect choice when you want to mix comfort with professionalism. Our services ensure your logo is presented with precision and quality. We offer a range of styles, fits, and colors to meet your brand's specific needs.
WHY CHOOSE THE PRINT PLUG FOR YOUR COMPANY UNIFORMS
YOUR GO-TO UNIFORM & APPAREL COMPANY
When it comes to your company's branding, it's crucial to choose the right partner for your uniform apparel needs. The Print Plug is proud to offer a host of advantages that make us the top choice for businesses in Nampa and beyond.
Experience and Expertise
With years of experience in the custom apparel industry, we understand what it takes to create the perfect company logo shirts, custom company hats, and custom polo shirts. Our team of experts ensures that your brand is showcased in the best possible way.
Top-Notch Quality
We take pride in the quality of our products. Our 5-Star Google Rating attests to our commitment to quality. From the materials we use to the embroidery and printing techniques, we maintain the highest standards to ensure your satisfaction.
Quick Turnaround
We understand that time is of the essence. That's why we offer a swift turnaround, including our famous 24-hour service for select items.
Exceptional Customer Service
At The Print Plug, your satisfaction is our priority. Our dedicated customer service team is ready to assist you at every step, from choosing the right products to finalizing your order. Not to keep plugging it, but our 5-Star Rating online speaks to our commitment to our amazing customers.
Hassle-Free Ordering
Just call in and one of our reps will happily assist you with putting the perfect custom merchandise and apparel package together. Our user-friendly website at www.theprintplug.online also allows you to easily customize and order your company uniforms, hats, and polos. We've streamlined the process to make it as convenient as possible. 
Competitive Pricing
We believe in providing top-quality products at affordable prices. Our competitive rates ensure that you get the best value for your investment. Found a better price? Just let us know, and we'll do our best to meet or beat it!
Choose The Print Plug for Your Company Uniform Needs
When it comes to company uniforms, custom hats, and polo shirts with your logo, The Print Plug is the name you can trust. Elevate your branding, create a unified team, and make a lasting impression with our premium products and services. Get started today and let us help you transform your brand's image with our custom apparel solutions.
Contact The Print Plug now to discover how we can take your brand to the next level with custom company uniforms, hats, and polos!
CHECK OUT SOME OF OUR PREVIOUS WORK FOR LOCAL COMPANY OUTFITS & UNIFORMS
To place an order, call us directly at (986) 777-9466, or fill out our
quote request form
; let us know the specifics of what you want and we can put together a proposal with a quote and mock-up. We will contact you as soon as possible to iron out all the details.
We proudly offer Direct-To-Garment, Embroidery, Vinyl, Sublimation, Screen Printing and more to greater Southwest Idaho and Eastern Oregon, including the following counties and cities:
Counties: Valley County - Adams County - Washington County - Payette County - Gem County - Canyon County - Boise County - Ada County - Elmore County - Camas County - Gooding County - Twin Falls County - Owyee County - Malheur County
Cities: McCall, Idaho - Council, Idaho - Indian Valley, Idaho - Midvale, Idaho - Cascade, Idaho - Smiths Ferry, Idaho - Ola, Idaho - Crouch, Idaho - Lowman, Idaho - Placerville, Idaho - Idaho City, Idaho - Stanley, Idaho - Atlanta, Idaho - Pine, Idaho - Mountain Home, Idaho - Glenns Ferry, Idaho - Grand View, Idaho - Oreana, Idaho - Murphy, Idaho - Boise, Idaho - Eagle, Idaho - Meridian, Idaho - Garden City, Idaho - Nampa, Idaho - Caldwell, Idaho - Emmett, Idaho - Payette, Idaho - Weiser, Idaho - Grasmere, Idaho - Riddle, Idaho - Castleford, Idaho - Buhl, Idaho - Hollister, Idaho - Twin Falls, Idaho - Ragerson, Idaho - Jerome, Idaho - Hagerman, Idaho - Gooding, Idaho - Fairfield, Idaho - Ontario, Oregon
NOT LOCAL? NO PROBLEM! TALK TO US ABOUT FAST AND FREE SHIPPING ON ORDERS OVER $200