SAME-DAY PROFESSIONAL EMBROIDERY DIGITIZING SERVICE
OUR EMBROIDERY DIGITIZING SERVICE EXPLAINED
In essence, embroidery digitizing is the process of transforming artwork into a digital file using specialized software that allows embroidery machines to interpret the path of the needle.
While this procedure is not automated, proficient digitizing is considered an art form when executed accurately. Most machines are equipped with their own software, enabling us to manipulate their functions while reading instructions from a digitized file.
It's important to note that embroidery machines cannot read the same file types as computers do. Therefore, before they can carry out their tasks, your logo must be digitized in a way that these machines can comprehend.
From the perspective of an embroidery digitizer, this typically involves taking a customer's company logo or artwork in formats like JPG or PNG and converting it into an embroidery file. The type of embroidery file depends on the specific embroidery machine in use.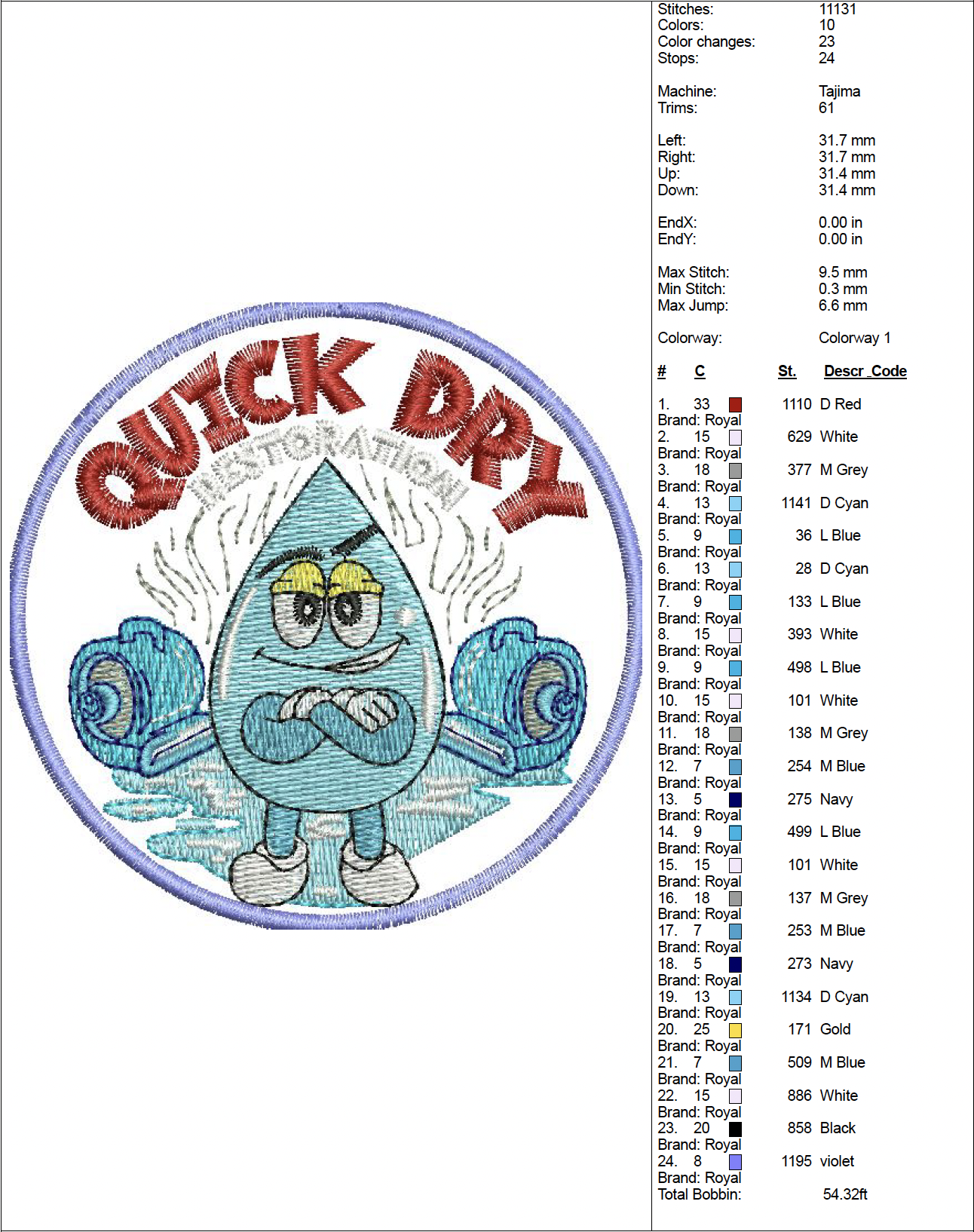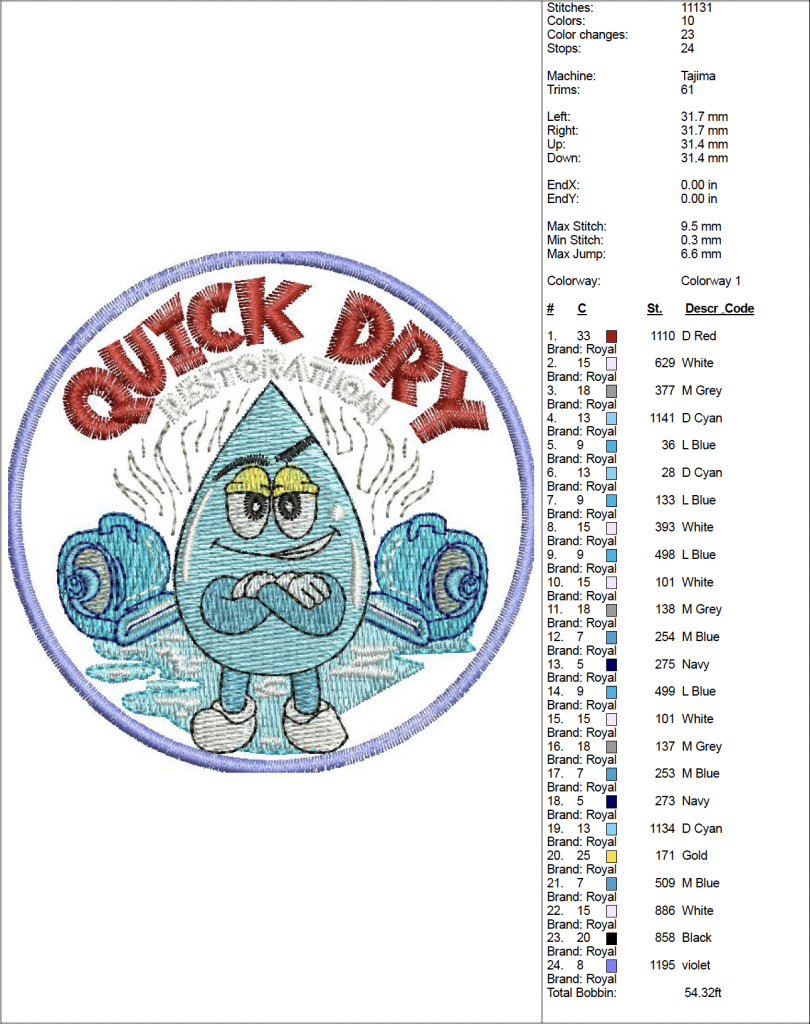 Our professional digitizers provide fast and accurate digitizing. We offer same-day delivery on weekdays, and can provide up to 3 revisions free of charge.
We are located in Nampa, Idaho but we are able to provide digitizing services nationwide, with the same great quality and fast turnaround.
Give us a call today today to learn more about our professional digitizing services.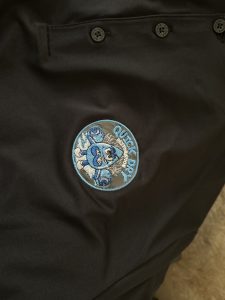 DIGITIZED FILE TYPES BY MACHINE:
.dst: Format for Tajima machines
.exp: Format for Melco machines
.jef: Format for Janome machines
.kwk: Format for Brother machines
.dsb: Format for Barudan machines
.tap: Format for Happy machines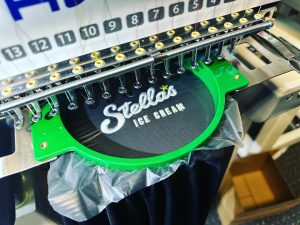 THE BASIC STEPS OF DIGITIZING
Upload Your Logo to the Digitizing Software
Set Embroidered Design Size
Choose Your Stitch Type
Set Stitch Direction
Set YourThread Colors
Transfer the File to Your Machine
---
Understanding the design is a pivotal aspect of this process. Factors such as size, complexity, and placement of the artwork play a significant role in digitizing. Proficient digitizers, and indeed all good digitizers, should consider the interplay between fabric and thread. In certain cases, allowing the fabric to show through as a color might be more favorable than using thread. Assigning appropriate stitch types to specific areas must also take into account fabric type and the fabric's tendency to "push and pull." As each job involves various variables, it's imperative to approach each with careful consideration.
Preparing Your Artwork for Digitizing: Next, the digitizer must assess the artwork to determine if any edits are required for the final sew-out. The final design's size must be taken into account. Not all logos designed for print media, such as business cards, translate well into embroidery. Many designs need simplification or modification. Occasionally, only the design name and a small image are employed. Certain elements, such as outlining, might need to be eliminated, and small text could be enlarged and rearranged.
Choosing Your Stitch Type
A range of stitch types is available to achieve different appearances, textures, and effects. Each stitch type comes with a maximum stitch length that should be considered, along with fabric type and the garment's "push and pull" behavior. Here are the three most common machine stitch types:
Straight Stitch: Foundational stitch for creating patterns with repeated straight lines of stitches. Can be used to create thick lines by repeating the stitch.
Satin Stitch: Ideal for embroidering text due to its longer thread length and shiny appearance. Maximum stitch length is 12.1mm.
Fill Stitch: Used to fill in patterns, creating a woven appearance through alternating lines. Maximum stitch length is typically 4mm.
Push & Pull: The "push and pull" effect is crucial in embroidery. Shifting may occur during embroidery, causing certain stitches to shift. Digitizers must account for this effect, which is influenced by factors like fabric type and thread tension.
Embroidery Sew Out: Digitizing complex designs with fine details, small text, color gradients, and multiple color changes requires careful setup and experience. A well-digitized design enhances the final logo, making quality digitizing a significant aspect to consider when selecting an embroiderer.
In Summary: Just as in many areas of life, the principle of "garbage in, garbage out" holds true here. A well-structured file leads to a superior sew out. The digitizing process should not be rushed, and given the abundance of digitizing services available, finding the right person or business for the task is crucial. At Superior Ink, we collaborate with skilled digitizers based on their experience and reputation. Click below to initiate your digitizing project with The Print Plug in Nampa.
If you're ready to learn more about our professional digitizing service, or any of our other garment decorating services, give us a call today, or fill out our online quote request form.
To place an order, call us directly at (986) 777-9466, or fill out our quote request form; let us know the specifics of what you want and we can put together a proposal with a quote and mock-up. We will contact you as soon as possible to iron out all the details.
We proudly offer Direct-To-Garment, Embroidery, Vinyl, Sublimation, Screen Printing and more to greater Southwest Idaho and Eastern Oregon, including the following counties and cities:
Counties: Valley County - Adams County - Washington County - Payette County - Gem County - Canyon County - Boise County - Ada County - Elmore County - Camas County - Gooding County - Twin Falls County - Owyee County - Malheur County
Cities: McCall, Idaho - Council, Idaho - Indian Valley, Idaho - Midvale, Idaho - Cascade, Idaho - Smiths Ferry, Idaho - Ola, Idaho - Crouch, Idaho - Lowman, Idaho - Placerville, Idaho - Idaho City, Idaho - Stanley, Idaho - Atlanta, Idaho - Pine, Idaho - Mountain Home, Idaho - Glenns Ferry, Idaho - Grand View, Idaho - Oreana, Idaho - Murphy, Idaho - Boise, Idaho - Eagle, Idaho - Meridian, Idaho - Garden City, Idaho - Nampa, Idaho - Caldwell, Idaho - Emmett, Idaho - Payette, Idaho - Weiser, Idaho - Grasmere, Idaho - Riddle, Idaho - Castleford, Idaho - Buhl, Idaho - Hollister, Idaho - Twin Falls, Idaho - Ragerson, Idaho - Jerome, Idaho - Hagerman, Idaho - Gooding, Idaho - Fairfield, Idaho - Ontario, Oregon
NOT LOCAL? NO PROBLEM! TALK TO US ABOUT FAST AND FREE SHIPPING ON ORDERS OVER $200