CUSTOM DTF PRINTING SERVICES IN NAMPA, IDAHO
The Direct-to-Film print method is a modern and efficient technique used in the screen printing process. In this method, the design is directly printed onto a transparent film using specialized inkjet printers. The film serves as a stencil that allows precise and detailed reproduction of the design onto the screen. This method eliminates the need for traditional hand-cut stencils, streamlining the setup process and ensuring consistent and high-quality prints. Direct-to-Film printing offers excellent registration and helps screen printers achieve intricate designs with ease. It has become a popular choice for its accuracy, speed, and cost-effectiveness in the garment printing industry.
The process is relatively hassle-free compared to other methods of printing.

With DTF printing, you are not limited by colors or substrates. For no extra cost, you can incorporate as many different colors into your printed design as your heart desires.

DTF offers much quicker turnaround times than traditional methods.

There is no minimum order for Direct-to-Film printing. This makes it the number one option for one-off prints and small run orders.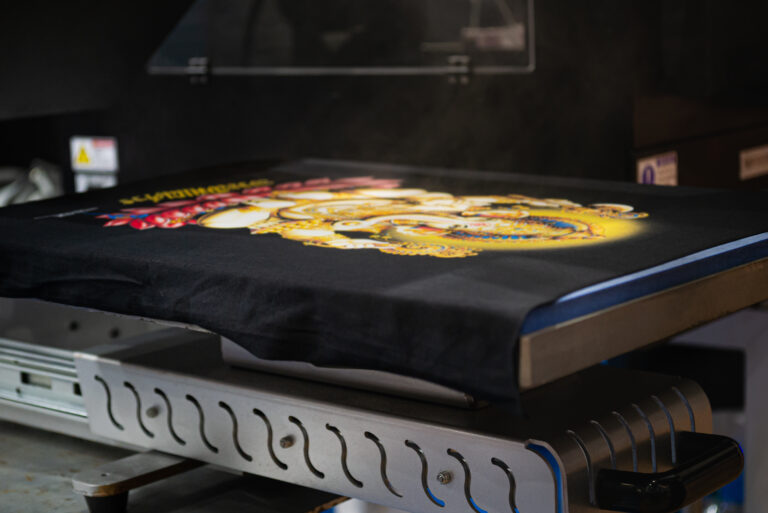 At The Print Plug, we are able to utilize our top-of-the-line DTF printer to apply professional graphics and designs to a multitude of mediums, including fabric types that are not suitable for DTG printing.
Call The Print Plug today to find out how we can help breathe life into your custom apparel project. With a friendly and knowledgeable staff, you can rest easy knowing your DTF print job is in good hands. From the design process to the finished product, your satisfaction is guaranteed.
Direct-to-Film printing is a modern and efficient technique used in screen printing. The process involves several steps to create a precise and detailed stencil for printing designs onto various substrates. Here is a brief outline of the individual steps involved in Direct-to-Film printing:
Design Creation: The process begins with the creation of the design using computer software. The design is customized according to the customer's specifications and requirements.
Film Printing: The finalized design is printed onto a transparent film using specialized inkjet printers. This film will serve as the stencil for the screen printing process.
Screen Preparation: The screen used for printing is coated with an adhesive powder.
Curing: The adhesive powder is cured at a specific temperature for a specified period of time, until it hardens into an adhesive layer.
Pressing: Once the design is created and adhesive is applied, you are ready to press the design onto your garment! Simply measure and apply the design, press and peel, and that's it!
Direct-to-Film printing offers precise registration, efficient setup, and excellent results, making it a popular choice for screen printers looking to achieve intricate and detailed designs on various materials.
Vector graphics work best, but we can work around the quality of your design and alter it to fit the order (fees may apply). The reason vector graphics are most commonly used is because they can be infinitely resized without losing any resolution or color quality, which is ideal for projects that need high quality images. DTF printing is a digital process; all we need is a high resolution art file that we can send to the printer and we will be able to print the shirt. Common file types for vector graphics include .ai (illustrator), .eps (encapsulated postscript), and .svg (scalable vector graphics). A high resolution PNG (portable network graphics) with a transparent background is preferred, and we can work with the art you give us (fees apply for reworking).
.Ai (Adobe Illustrator)
.eps (Encapsulated Postscript)
.svg (Scalable Vector Graphic)
.png (High Resolution Portable Network Graphic)
To place an order, call us directly at (986) 777-9466, ot fill out our
quote request form
; let us know the specifics of what you want and we can put together a proposal with a quote and mock-up. We will contact you as soon as possible to iron out all the details.